Initially, Malaysia's Turtle Islands National Park comprised three small islands, Pulau Selingan, Pulau Bakungan Kecil and Pulau Gulisan. The islands are small, Pulau Selingan is just 20 acres. Three years ago, the park was linked with six nearby Philippine islands to become the Turtle Islands Heritage Protected Area, the world's first marine turtle conservation area straddling national boundaries.
The park now comprises an area of 1,749 hectares including the surrounding coral reefs and sea. During the peak summer months,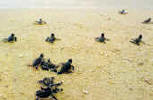 instinct drives the turtles to converge in the shallow waters of the island of their birth, and the males compete for breeding dominance.
Year-round, and especially from July to October, thousands of female turtles heave themselves up onto the beaches of these nine islands to lay their eggs under cover of darkness. After removal and incubation directed by locals, the young sea turtles are released to the ocean.