Gateway to Borneo's Wildlife, Sandakan was the former capital when Sabah was known as British North Borneo. Within the town, places of interest include:
St Michael's and All Angels Church, Goddess of Mercy Temple, Puu Jih Buddhist Temple, Sandakan Mosque, Australian Memorial, Japanese Cemetery and the Observation Point at Jalan Istana. If shopping is one of your interests, there is a huge market on the shore front.
Additional Places of Interest in the Area of Sandakan:
Sepilok Orang-Utan Sanctuary


Here, orang utans that have been abandoned by their mothers, or were formally in captivity, are rehabilitated until they are fit enough to be returned to the wild.
Batang Kinabatangan
Sabah's longest river, the riverside forest boasts an astonishing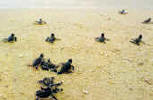 variety of wildlife that is both common and easy to see.
Turtle Islands National Park
Visited by marine turtles which come ashore to lay their eggs, mainly between August and October.