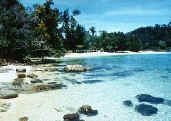 Kota Belud, the horsy capital of the
Bajau community and home of Sabah's most colourful Market every Sunday. Visit the biggest open-air 'Tamu' (Market) in North Borneo. Handicrafts and livestock, ranging from poultry to goats and water buffaloes, are sold alongside with local native hinterlands products.
A weekly social event for the rural folk, the Tamu' is of socio-historical significance and provides good photo-opportunities to capture some of Borneo's cultural heritage.
Easy day trip from Kota Kinabalu